How watching TV can speed up my English progress
If you want to learn English fast, you can join an Intensive English Program in the US or take an online English course. 
But what if you can't travel right now? 
If you can't go out, but you still want to learn English fast, you can improve your English with the help of Netflix, Amazon Prime Video, or HBO Max. This article will show you how!
The first good thing to know is that you can learn a lot of English words and phrases, including academic and business English through watching TV shows and series.
Learning English from TV is great because when you study by watching TV, you can pause the show to take notes, or rewind it and watch something again in order to catch a word or phrase that you missed. 
Many students ask, "How can I learn English faster?" The answer is in the way that you practice. 
TV shows are a great way to practice your English because you can listen to the pronunciation and sounds of English in a natural way. When you hear one of the characters say an interesting word or phrase that you want to remember, you can pause the show. Then you can imagine that you are the actor. You can say the same word or phrase with the same pronunciation as the actor. Is the actor angry or sad? Try to copy the emotion in the actor's voice in order to sound more like a native speaker. 
When you watch different TV shows, you can see and hear how people talk while they are eating dinner together, while they are at school with their friends and classmates, or while they are having fun at a party.
Practicing English can be fun! So grab your device and choose your favorite show! Don't have a favorite show? No problem, keep reading for our recommendations on some of the best TV shows to watch in order to improve your English. 
The Office: English in the American Workplace
A great way to learn workplace English is to study a TV show that takes place in a work setting. You can learn important workplace vocabulary, cultural references and interesting idioms. You can practice common conversations and dialogs that you hear the characters saying. 
If you are asking yourself, "What's the fastest way to learn English?" The Emmy Award winning series The Office (TV Series 2005–2013) is a great place to start. This comedy series offers 9 seasons of funny situations, relationship development, romance and the ups and downs of work life. 
The TV show is set in Scranton, Pennsylvania. It shows normal people working at a normal job. The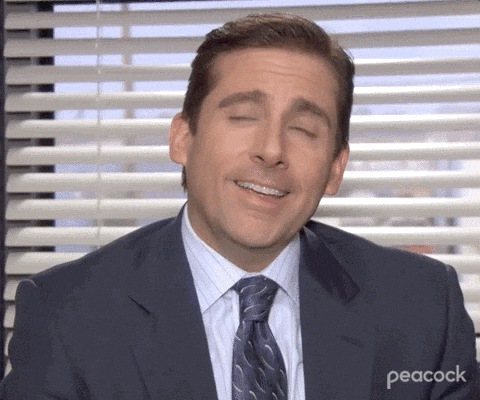 employees work for a paper company called Dunder Mifflin. Their job is to sell paper and paper products. Their boss Michael Scott, played by the actor Steve Carell, makes many mistakes. He doesn't follow the rules of society. Even though he is a terrible boss, his employees love him, because he has a big heart. 
Recognized by Life Magazine as "America's Funniest Man," Carell draws inspiration from his middle class upbringing. Carell was born and raised in a small town in Massachusetts. In an NPR interview, Carell explained that his middle school teachers were actually the ones who inspired him to portray the character Michael Scott in the way that he did. Carell told interviewers that his teachers were always trying to be cool — even cooler than the students, and that they always failed. This inspired Carell to portray Michael Scott as a boss who wants his employees to think that he is cool, but who usually just embarrasses himself. 
If you plan to study or work in the United States, the Office can offer you many opportunities to learn conversational English. Even though the series takes place in an office setting, the real attraction of the show are the characters and their lives. Throughout the series, the characters experience the ups and downs of daily life. Characters fall in love, break up, get married, have children, fight with each other, solve problems, and comfort each other when terrible things happen. This series is an excellent choice if you want to learn more English words or learn English vocabulary and phrases about work or daily life in the U.S.
The Marvelous Mrs. Maisel
Have you ever wondered what life was like in the past? In the Golden Globe Award winning series The Marvelous Mrs. Maisel, you can see what life was like in New York City in the 1950s and 1960s. 
This Amazon comedy series stars the American actor Rachel Brosnahan as Mrs. Maisel, an unfulfilled
housewife who discovers through trial and error that she is a very gifted stand up comedian. 
Life isn't easy for Mrs. Maisel. Although she is from a fashionable and wealthy family, her new career path is distasteful to her husband, parents, and friends. She must keep secrets from the people that she loves the most. She must fight against gender stereotypes and discrimination to be recognized for her talent. 
While following the twists and turns of the plot, you can see the fantastic fashion styles of the 1950s. You can also see many famous sites in New York City such as the Chrysler Building, Greenwich Village, Washington Square Park and the Gaslight Cafe. In many scenes, Mrs. Maisel is meeting with her agent Susie, played by Alex Borstein in a typical 1950s diner. You can't get more New York than that! 
Friday Night Lights
Do you want to know more about what it is like to grow up in the United States? Do you want to learn about family life and culture? In the Primetime Emmy Award winning show Friday Night Lights (TV Series 2006–2011) , you can follow along with different aspects of school culture, southern culture, and family culture. 
Set in the U.S. state of Texas, Friday Night Lights is about a high school football team and their coach. The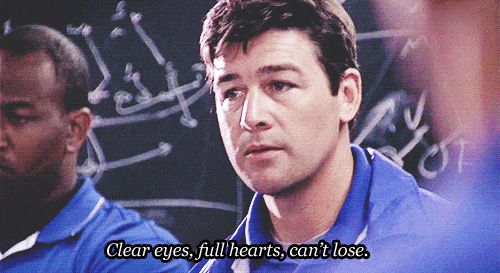 show follows the stories of the players and their families, the coach and his family, and the fans who love them. You will be on the edge of your seat watching the love, loss and drama! 
If you are a fan of sports, or want to learn more about American football, then this is the show for you. You will see the dedication and passion that students have for their sport, and the sacrifices that they make to achieve their goals and dreams. As you know, Football is a big part of U.S. culture all over the country. This show will give you great vocabulary to help you make small talk and have casual conversations at parties, at work, and after class.
Can learning English be easy?
We all know that English isn't an easy language to learn. Every language is different, and learning any language can be challenging. 
One part of English that many students have difficulty with is the pronunciation, because it can be very different from the way that the word is spelled. 
Many times, the pronunciation in different areas of the country, or in different cities is different as well. So the pronunciation that you will learn might depend on the place where your teacher grew up. 
Take the Texas southern accent, which you can hear in the TV show Friday Night Lights (2006-2011) The Texan accent is one of the most recognizable and famous accents in the United States.
One trick to help you speak with a Texan accent is to change the way that you pronounce "I" Texans pronounce this sound as "Ah."
For example, instead of saying "I'm," Texans say "Ah'm." Instead of saying "I'll," it is pronounced "Ah'll," in Texas. 
You can also practice the Texas accent by dropping, or removing the "g" sound from words that end in "ing." For example, in Texas, you will pronounce the words "going, seeing, and thinking" as "goin, seein, and thinkin." 
Want to learn more about the Texas southern accent? Watch the show! 
While studying American English, one of your goals should be to improve your use of the standard U.S. English pronunciation. This standard pronunciation will help you to understand exams such as the IELTS or TOEFL tests. This pronunciation is the most common accent or pronunciation that you will hear when you listen to the national news.  
Feeling comfortable listening to regional or special accents will help you to be more successful in your English career. Sometimes you might need to speak with or understand a professor at school, or a coworker who grew up in a different part of the United States and has a different accent. Maybe you will even work with people who speak with a British or Australian English accent. 
Keep reading to find out about three more popular American TV shows that will help you master your English conversation skills, learn more about U.S. culture, and learn English vocabulary and phrases. 
Most Americans are familiar with the following TV shows. This is great, because you can use ideas from the shows, to make small talk at a party and give you something in common with native speakers of all ages.
Friends (TV Series 1994–2004)

is a classic TV show, and one of the most popular U.S. sitcoms worldwide. You can learn about navigating romantic relationships, friendships and what it is like to live and work in the city that never sleeps

The Big Bang Theory (TV Series 2007–2019)

 

Tells the story of a group of brilliant physicists and their relationship with their neighbor Penny, and the world. As they teach her about math and science, she teaches them how to be cool and fit in with "normal" people.

The Simpsons (TV Series 1989– )

One of the longest running sitcoms can also be a great way to learn English fast! The Simpsons is an animated (cartoon) series about a working class family that lives in Springfield. Each day is a new adventure for the Simpsons. This show is sometimes sentimental, sometimes political, and always funny.
How to learn English with TV
Firstly, the shows or genres that you love the most are the shows that will help you learn the fastest. When you watch what you enjoy, you will feel more connected to the plot and the characters. 
What if you have already watched the entire series in your language? Great! Try watching the series again, but this time in English. Some learners find this method useful because they already know the main ideas of the episode. If this is true for you, you will be able to focus more on the language that the characters are using to explain their ideas and feelings.
Is one of your English goals to improve your English vocabulary fast? Here's a vocabulary learning hack: Try keeping your notebook handy. If you notebook is near you while you are watching your favorite TV show, you can easily pause the show and take notes about the vocabulary words that you see and hear. 
Many students ask, "Should I use subtitles, or not?" Good question! The answer is that you should do whatever you feel helps you learn the best. Sometimes the speakers in the show that you are watching talk very quickly. In this case, you can turn on the subtitles. Try listening to the characters speaking as you check the subtitles. If you see or hear a word that you want to save, just hit pause and take some notes! 
Here is a tip to help you learn to speak English fast while practicing listening skills. As you watch the TV shows that you love, try pausing the show so that you can say the phrases that you hear out loud. Try to use the same emotions in your voice that the actors use. Are the actors happy, sad, or angry? Try to make your voice have the same feeling. You can be an actor, too! 
Do you need more chances to practice your English speaking skills? You could work together with a private tutor, go out and make a new friend who speaks English or take an English class either online or in person. Good luck and have fun! 
Related blog articles about how to learn English
While you book your online English Program or Intensive English course or other academic English or business English course, improve your language skills by reading our free English articles or watching our free English lesson videos.  
Bringing decades of passion as educators, we believe in open access to education for language learners around the world, regardless of race, religion, gender identification, physical and mental abilities, economic standing, documentation status, and educational levels.
Article by Janelle Rivers, ESOL Instructor